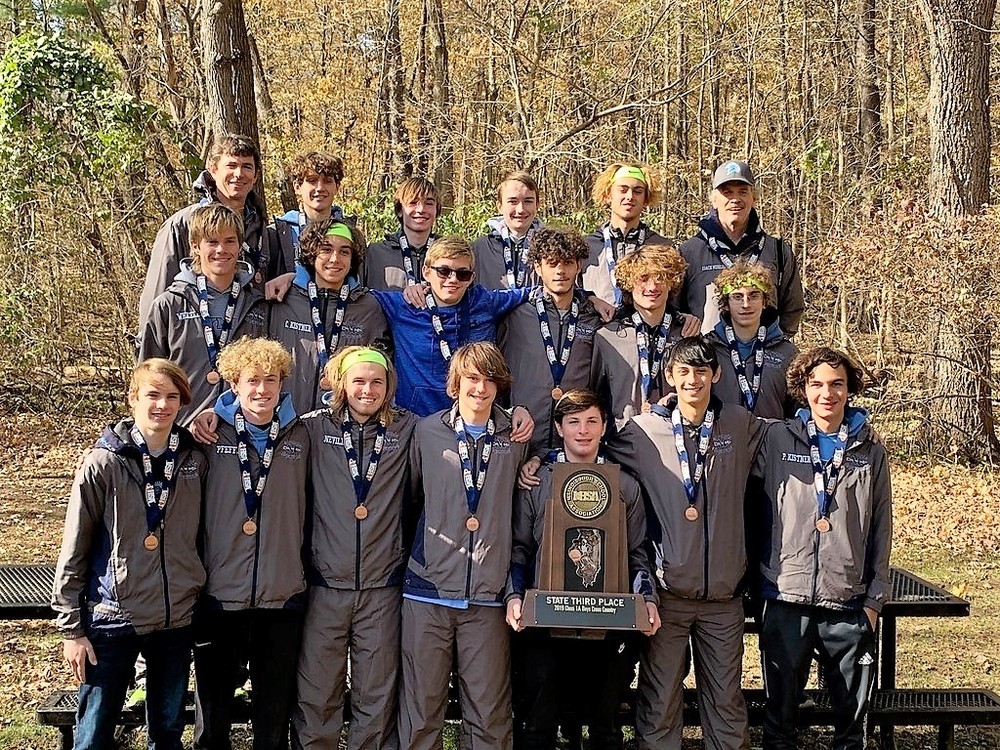 3rd in State for OHS Boys Cross Country
kim logsdon
Tuesday, November 19, 2019
Olympia HS Boys Cross Country has had a stellar season. Not only did they finish their season with a team 3rd place finish at IHSA Cross Country State but they had seven 1st place team finishes throughout the season.
St. Thoma More Sabre Corn Classic 1st of 17 teams
Normal Open - 1st of 9 teams
First to the Finish (Detweiller Park) - 1st of 50 teams
Illini Prairie Conference - 1st of 10 teams
St. Anthony Bulldog Invite - 1st of 11 teams
Metamora Runnin' Red Invite - 2nd place of 25 teams (Oswego East-the 5th place team in 3A the only team to beat us that day)
IHSA Olympia Regional - 1st of 13 teams
IHSA Elmwood Sectional - 1st of 21 teams
IHSA State Meet (Detweiller Park) - 3rd of 25 teams that qualified for the state meet.
The team as whole had an amazing season, nonetheless the individual accomplishments of the boys cannot go unrecognized. Charlie Kistener(Junior) ran a 15:16.55 at State to break the old record of 15:23 set by John Neisler at the 2005 IHSA State Cross Country meet. By virtue of his 9th place finish Charlie became the 4th male All-Stater from Olympia. The top five runners at State set a new record with a combined time of 1:18:35, which equals 15:43 per individual. Those top five times were Charlie Kistner- 15:16, Logan Wheeler(Junior)- 15:40, Dylan Bennet(Sophomore)- 15:43, Anthony Ragland(Sophomore)- 15:53, and Jon Neville(Senior)- 16:02. The IHSA State meet was a day of personal bests for Charlie Kistner, Logan Wheeler, Dylan Bennet, and Anthony Ragland. Each guy on the team played a key role in the success of the team, they pushed each other and each individual accomplished new personal records throughout the season.
Jon Neville- 15:46, Parker Kistner(Senior)- 16:04, Owen Dare(Sophomore)- 16:11, Lucas Lawless(Junior)- 16:26, Carter Fairfield(Sophomore)- 16:38, Alec Pfeffer(Junior)- 16:42, Chase Mayberry(Junior)- 18:18, Ethan Evans(Freshman)- 18:26, Nicola Bertele(Senior)- 18:50, Seth Jenkins(Freshman)- 18:51, Brad Shardan(Sophomore)- 19:06, Xzavier Kell(Freshman)- 19:42, Logan Farquhar(Freshman)- 20:06, Noah While(Junior)- 20:55, AJ Reeser(Senior)- 21:21
This season was the 11th time the boys team qualified for State; best previous State finish was 13th in 2008. With many more years of success this young team is sure to push the Olympia record board.